Otaku Lounge: Ein Stück Japan in Saarbrücken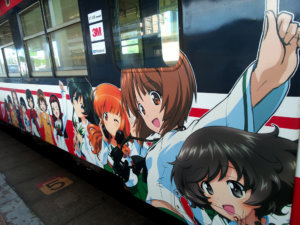 Als ich letztens einen kleinen Spaziergang durch Saarbrücken wagte, fiel mir beim Einbiegen in die Eisenbahnstraße ein Laden auf: An der Tür waren japanische Schriftzeichen zu erkennen und im Inneren konnte ich Vitrinen mit Manga-Figuren entdecken. Durch meine Neugier und meine Vorliebe für Manga und Anime trat ich natürlich ein und wurde zu meiner Überraschung freundlich auf japanisch begrüßt. An den vielen Tischen und einer Bar, die sich ganz hinten im Raum befand, konnte ich daraus schließen, dass es sich um ein kleines Lokal handelte. Mir stachen auch sofort mehrere Schränke mit den verschiedensten Mangas ins Auge. Von Tokyo Ghul bis hin zu Dragonballs standen die Schränke voll mit den japanischen Comics und im Nebenraum standen diverse Arcadeautomaten oder 90er-Jahre-Computer, auf denen man Retro-Klassiker wie Tetris oder Street Fighter spielen konnte.
Ich befand mich in der Otaku Lounge, einem seit Februar 2017 existierenden Lokal, oder "Bar-Bistro-Café", wie es mir ein Angestellter schilderte. Unter der Auswahl vieler verschiedener Spieleautomaten und Mangas, die frei zur Verfügung standen, hatte man auch die Möglichkeit, japanische Speisen oder Getränke verkosten zu können. Noch dazu gibt es immer wieder Events wie beispielsweise Cosplay- oder Gaming-Wettbewerbe.
Zu den japanischen Spezialitäten gehören unter anderem Onigiri, eine "Reistasche", die entweder mit Gurken oder Fisch gefüllt sind, oder auch Curry-Reis, den es ebenso in verschieden Variationen gibt. Auch gibt es eine große Auswahl an Getränken, wie "Ramune", welches man als "Die Sprite Japans" bezeichnen könnte, oder Calpis Soda, ein Drink, der einen etwas Joghurt-artigen, mit Zitrone gemischten Geschmack hat. Im Angebot haben sie auch zahreiche saarländische Eigenherstellungen wie "Piranja Cola". Als keines "Dessert" kann man verschiedene Sorten Kit Kat bestellen, wie Beispielsweise Wasabi Kit Kat usw.
Zu den Videospiel-Angeboten gehören neben den Retro-Klassikern auch Neuerscheinungen wie die Nintendo Switch, auf der man unter anderem "The Legend of Zelda Breath of the Wild" spielen kann oder eine Playsation 4, die sich im oberen Stockwerk befindet, bei der Games wie "Injustice 2" oder "Mortal Kombat X" zur Verfügung gestellt werden, die sich perfekt für einen Gruppenbesuch anbieten.
Für mich ist die Otaku Lounge zu meinem Stammlokal geworden und – wie ich finde – ein absolutes Muss für alle Nerds und Otakus!